Tours
While downtown Lancaster is compact and very walkable, there are different ways to see and experience this interesting city. Tours, both guided and self-guided, provide information, insights, and stories that casual observation can't.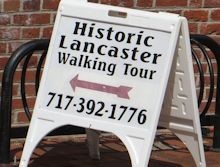 Historic Lancaster Walking Tour
The walking tour headquarters is located at Penn Square next to Central Market. Costumed tour guides will show you the true beauty and fascinating history of downtown Lancaster. See over fifty locations that span 250 years of Lancaster history and its impact on the growth of our nation.
Historic Lancaster Walking Tour
38 Penn Square
Lancaster, PA 17603
717-392-1776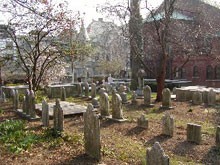 Lancaster Ghost Tour
Explore downtown Lancaster's forgotten mysteries with haunting tales of otherworldly vigils, fatal curses, and star-crossed lovers. Experience 300 years of haunted history. Purchase tickets in advance online or by calling 717-687-6687. Tours depart from the Soldiers & Sailors Monument at Penn Square.
Lancaster Ghost Tour
Soldiers and Sailors Monument, Penn Square
25 South Queen Street
Lancaster, PA 17603
717-687-6687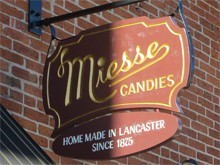 Miesse Candies Factory Tour
Miesse is a Lancaster tradition. They have been making handcrafted chocolates since 1875. While enjoying their retail store, be sure to take a factory tour and see firsthand how their delicious chocolate candies are made.
Miesse Candies Factory Tour
118 North Water Street
Lancaster, Pa 17603
717-392-6011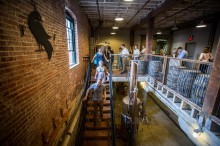 Thistle Finch Distillery
Whether you're a whiskey connoisseur or curious newcomer, you won't want to miss the experience of one of our intimate distillery tours. We'll walk you through the details of our historic building, discuss the origins of rye whiskey in Lancaster and Pennsylvania, and explain the process we use to distill our award winning Rye Whiskies and other spirits. After the tours, most folks usually end up in the tasting room to toast their new found whiskey wisdom with a cocktail or two!
Thistle Finch Distillery
417 West Grant Street
Lancaster, PA 17603
717-478-8472