Convention/Meeting Sites
Historic downtown Lancaster is the perfect place to stage a special event. Not only are the facilities first-rate, the setting is unmatched. Your guests will enjoy the unique character and ambience of a charming, small downtown. Museums, shops, and restaurants are just a few steps away. The downtown Lancaster experience is exceptional.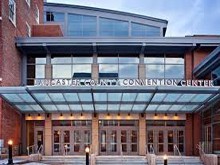 Lancaster County Convention Center
Adjacent to the Lancaster Marriott at Penn Square, in the heart of historic downtown Lancaster, you will find a state-of-the-art convention center that offers over 90,000 sq. ft. of combined space for conventions, conferences, events, and trade shows. There's a 46,000 sq. ft. exhibit hall, over 20,000 sq. ft. of flexible pre-function space, an elegant 8,700 sq. ft. ballroom. And the adjoining Marriott Hotel has 299 guest rooms and an additional 14,000 sq. ft. of meeting rooms.
Lancaster County Convention Center
25 South Queen Street
Lancaster, PA 17603
866-503-3786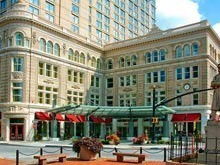 Lancaster Marriott at Penn Square
Located in the heart of downtown Lancaster, the Lancaster Marriott is across the street from the excitement of Lancaster's famous Central Market and attached to a world-class convention center. The hotel offers a grand lobby, luxurious guest rooms, meeting rooms, breathtaking views of the historic downtown, as well as elegant dining in the Penn Square Grill.
Lancaster Marriott at Penn Square
25 South Queen St.
Lancaster, PA 17603
717-239-1600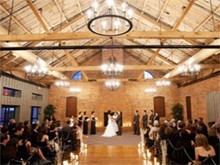 The Cork Factory Hotel
This historic property is an outstanding choice for wedding receptions, special events and meetings. There are several spaces, full of character, available for groups from 10 to 500 people – a 5,225 sq. ft. Ballroom, 2,555 sq. ft. Warehouse, 985 sq. ft. Assembly Room, and more. The Hotel has is a professional event staff to assist you. And the Hotel offers outstanding accommodations for overnight guests.
The Cork Factory Hotel
480 New Holland Avenue
Lancaster, PA 17602
717-735-2075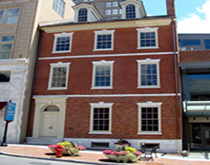 The William H. Montgomery House
The William H. Montgomery House is an historic event venue located between the Convention Center and the Marriott Hotel, just off Penn Square. The federal-style mansion house, built in 1804, is now available for meetings, special events, receptions, and private dinners. You'll find a refined sitting room, along with a high-end meeting/reception space for up to 40 people. Upscale catering service is available for up to 32 people.
The facilities are designed to meet the needs of discerning guests who appreciate fine surroundings.
The William H. Montgomery House
19-21 South Queen Street
Lancaster, PA 17603
717-207-4000