Wagons Ho!
Conestoga wagons born here in the 1700s moved the freight that grew our nation. Pulled by teams of six or eight horses, they could transport six tons on rough roads and over rocky streams. Wagons going to and from Lancaster inspired the nation's first turnpike in 1794.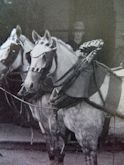 Bells and manure
During much of the eighteenth century it was common for 100 or more Conestoga wagons a day to pass through Lancaster, pulled by six-horse teams (that's 600 well-fed horses). King's Highway, going through the center of town, was alive with the constant ringing of wagon bells and the unmistakable stench of horse manure. The 60-mile journey from Lancaster to Philadelphia with a loaded wagon took about four days traveling at 15 miles per day; longer on muddy roads, and quicker on frozen roads in the winter. A stagecoach full of passengers could make the trip in less than two days, including necessary rest stops (and to change horses) at any of the 62 taverns along the way.
Visit –
lancasterhistory.org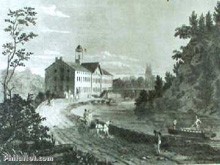 From paths to roads to highways to canals to railways
Early settlers walked on narrow Indian paths through thick woods pushing crude two-wheeled carts loaded with their meager possessions, or led a pack mule or horse. With Conestoga wagons to carry heavy loads and stagecoaches to carry people, paths were widened into rough roads. The completion of the Philadelphia-Lancaster Turnpike in 1794 made travel faster and easier. It was the nation's first turnpike—made with a hard stone base. The turnpike had an important impact on the town's economy. The completion of the 17-mile Conestoga Canal in 1825, enabled goods to be taken by boat from E. King Street in Lancaster to Safe Harbor on the Susquehanna River. The 82-mile Philadelphia, Lancaster, and Columbia Railroad, with a station in Lancaster at N. Queen and Chestnut Streets, was built in 1834.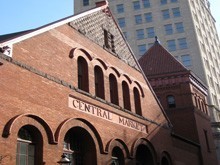 Lancaster is a market town
In 1730, Lancaster was laid out with an open-air public market in the center of town where farmers and others brought their wares in wagons to sell. In 1800, a brick building, housing a Masonic Lodge on the second floor, was constructed adjoining the new City Hall on Penn Square. At the street level, there was a through-arcade accessing the large open-air market with stands selling fresh, local produce, meats, and baked goods. By the end of the nineteenth century there were eight markets in the city. The current Romanesque Revival market house, called Central Market, was built in 1889 featuring ornate brick and stonework. Central Market was designated in 1995 as one of the "Great Public Places" in America.
Visit –
Lancaster Central Market (open Tuesday, Friday and Saturday)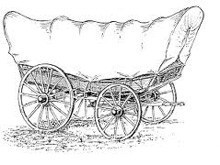 The American dream came by wagon
As early as 1717, Conestoga wagons were being designed and built by local craftsmen to move freight, enabling the nationwide migration of settlers for almost 150 years. During the French and Indian War, Benjamin Franklin came to Lancaster buying wagons to supply Braddock's army. Conestoga wagons were up to 18 feet long, and pulled by teams of specially bred horses, known as Conestoga horses. The wagon's upward curve, like a ship's hull, prevented contents from shifting. The large rear wheels were ideal for crossing creeks and rolling over large rocks; smaller, front wheels made turning easy. There were no seats. The driver walked along the left side, or rode one of the horses, or sat on a lazy-board on the left side of the wagon. That's why we drive on the right side of the road today.