Revolutionary Ideas
The late eighteenth century saw the growth of Lancaster and the birth of the nation. While no battles were fought here, Lancaster riflemen and volunteers fought with distinction, Lancaster patriots played an important role in creating our new government, as Lancaster helped feed and supply our troops.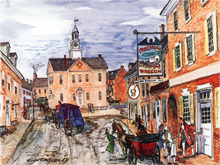 Capital for a day
On September 27, 1777, Lancaster was the capital of the United States. Congress met here in the old Lancaster Courthouse as they fled Philadelphia when it was occupied by British troops. They moved on to York, which served as capital for one year. After the war, Lancaster's General Edward Hand tried to get Lancaster to become the capital of the United States, bragging it was the nation's largest inland town with 4,200 residents, 5 public buildings, 14 hatters, 36 shoemakers, 25 tailors, 7 gunsmiths, 40 taverns, and churches of all denominations.
Visit –
lancasterhistory.org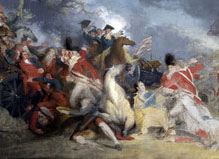 Lancaster Patriots
At the outbreak of the Revolution, Lancaster Riflemen were among the first to march to Boston. As the largest and wealthiest inland town in the colonies, Lancaster's many influential patriots had great impact on the Revolutionary War and the growth of the nation.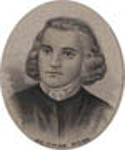 George Ross
Ross was a Lancaster Rifleman, member of the Continental Congress and signer of the Declaration of Independence. He introduced his niece, Betsy Ross to George Washington, who asked her to create the first flag.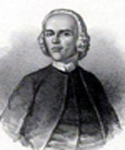 William Henry
Henry was a prominent gun maker and member of the Continental Congress. Thomas Paine was a resident-guest in his Lancaster home in 1777 and 1778. Fellow Lancaster patriots disliked Paine for his lazy, slovenly, and immoral behavior.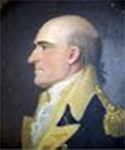 Edward Hand
Hand, a physician, led Lancaster volunteers that fought with Washington's army in New York and New Jersey. He became Washington's Adjutant-general. After the war, Hand was Lancaster's Chief Burgess.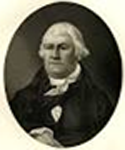 Jasper Yeates

Yeates was a wealthy Lancaster lawyer and judge, active in the politics of the revolution. He served as judge on the State Supreme Court and was a delegate to the Pennsylvania Convention that ratified the United States Constitution in 1787.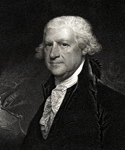 Edward Shippen
Shippen was mayor of Philadelphia in 1744, moved to Lancaster in 1752, and was active here in Revolutionary affairs. He was a wealthy merchant, county judge, and prothonotary. His granddaughter married Benedict Arnold.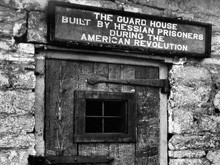 Prisoners sent to Lancaster
Several thousands of British prisoners of war were sent to Lancaster where they were put in huge stockades. Officers were paroled to live in rented quarters among the townspeople. . Hessian prisoners were sent to Lancaster because of the number of German speaking residents. Some prisoners were kept in taverns and private homes, and at least 315 skilled Hessian craftsmen worked for Lancaster craftsmen. Many were given work to support the war effort, such as guarding supplies, and making cannon, shot, rifle barrels, and shoes for Washington's troops. After the war, many Hessian prisoners elected to stay here, get jobs, and marry. The most famous British prisoner was Major Andre. He lived in the home of Caleb Cope on N. Lime Street, and had the freedom to go wherever he wanted in Lancaster. After four months, he was paroled and returned to the British army where he rose to the rank of Adjutant-general, before being executed in 1780 for being a spy.
Visit –
lancasterhistory.org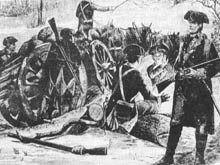 Supplying the war
Because it was a market town, manufacturing center, commerce hub, and located a convenient but safe distance from the fighting, large quantities of supplies for the patriot army were shipped from Lancaster – cannons, ammunitions, rifles, and camp kettles, as well as grain, shoes, and uniforms. Downtown Lancaster had a military barracks, stables, warehouse, and powder-house to support the needs of the troops. These supply facilities were often guarded by Hessian prisoners.
Visit –
lancasterhistory.org