Lancaster's Rich and Varied Architecture
Lancaster is unique in that it still has many of its architectural treasures spanning three centuries. Simply by walking the streets of downtown Lancaster, you see buildings, both public and private, that represent Georgian, Federal, Victorian, Beaux Arts, and Modern styles.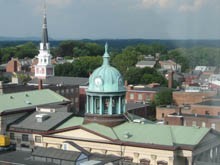 Public buildings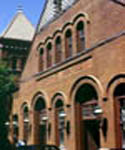 Central Market, 1889 –
This vibrant market house was built just off of Penn Square on the site of the original 18th century open-air market. The current Romanesque Revival market house, called Central Market, was built in 1889 featuring ornate brick and stonework. In 1995, Central Market was designated as one of the "Great Public Places" in America.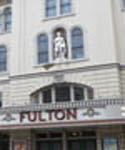 Fulton Opera House, 1852 –
The Italianate-style Victorian building was completed in 1852. Originally called Fulton Hall, this national treasure located on N. Prince Street has been a center for the performing arts, social gatherings, and civic affairs for over 150 years. In 1873, the hall was converted to a grand theatre. A statue of Robert Fulton stands above the marquee.

Griest Building, 1925
Lancaster's historic 14-story skyscraper was designed by noted Lancaster architect, C. Emlen Urban, in the Italian Renaissance Revival style. The building was named after William Griest, former U.S. representative.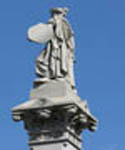 Soldiers and Sailors Monument, 1874—
The 43 feet tall Gothic Revival monument was built on Penn Square, on the site of the first Courthouse, to honor Lancaster's Civil War veterans. A local Civil War officer posed for the figure of the cavalryman, while the other three figures represent the other military branches. The "Genius of Liberty" is atop the monument, facing north, holding a sword and shield.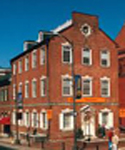 Old City Hall, 1795 –
This three and a half story brick Georgian-style structure with Federal influences was built in 1795. The third floor was added in the mid 1800's. It is the oldest remaining building on Penn Square. It started life as Lancaster's City Hall, served as Commonwealth offices when Lancaster was the state capital. It also functioned as a post office and a museum.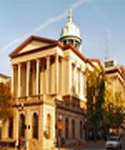 Lancaster County Courthouse, 1852 –
The impressive Roman Revival building has served as county Courthouse since 1852. The old section, on a high foundation, is built of brick covered wire mastic. The W. King Street entrance is set off with six Corinthian order columns of native stone. The cupola has a statue of Justice.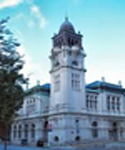 Lancaster City Hall, 1889 –
Built in 1889, using cut Indiana limestone, this ornate building on N. Duke Street is influenced by Moorish Revival and Venetian Revival architecture and includes horseshoe-shaped windows, round windows, sculpted moldings, and carved decorative tiles. The minaret-style tower has a copper-clad belvedere. Architect C. Emlen Urban directed the transition from post office to municipal building in 1930.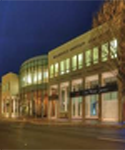 The Ware Center, 2008 –
This striking four-story glass and granite center for the performing and visual arts, on N. Prince Street, was the last building designed by renowned architect Philip Johnson. It features a glass pyramid rooftop atrium. The center is used by Millersville University Lancaster for classes, performances, and civic events.

Visit –
Lancaster History.org
Historic Lancaster Walking Tour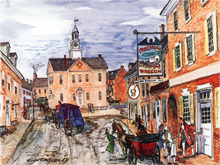 Lancaster's first courthouse - 1738
One of the first buildings constructed in the new town was the Lancaster County Courthouse, completed in 1738. It was a two-story brick, English-style building with bell and clock in the cupola tower, situated in the center of town on a cobblestone square. The large meeting room on the first floor had a brick-paved floor, and there were several rooms on the second floor. The building was the site of many history-making events – the treaty of 1744 and the meeting of the Continental Congress in 1777. The building was destroyed by fire in 1784.
Visit –
Lancaster History.org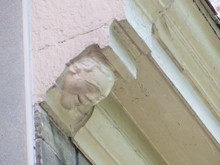 Historic homes (not open to tour)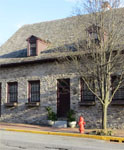 Gundaker Stable, 1798
Located in Lancaster's historic Old Town, this Germanic stone building was built as a barn/stable and converted into a double house in 1838.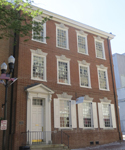 Jasper Yeates House, 1765
24 South Queen Street
Pennsylvania Chief Justice, Jasper Yeates, built this 3-1/2 story brick Georgian home for his son-in-law, Judge Charles Smith, on S. Queen Street.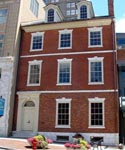 William Montgomery home, 1804 –
19-21 South Queen Street
Lawyer and civic leader, William Montgomery built this restored brick Federal-style home designed by Stephen Hills on S. Queen Street.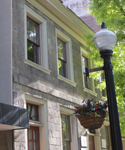 William Bowman home, 1762 –
123 East King Street
This two-story stone home with carved datestone was built by William and Elizabeth Bowman. At the base of the eaves is a carved face, known as the 'eaves dropper', looking down at the sidewalk along E. King Street.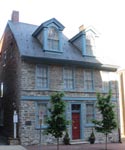 Rev. Gotthilf Henry Ernst Muhlenberg home, 1780 –
33 North Duke Street
This stone Georgian-style building on N. Duke Street, served as parsonage for Trinity Lutheran Church from 1780 to 1815. Rev. Muhlenberg was a famous botanist and member of a distinguished family of patriots.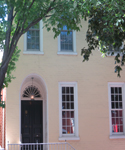 Christopher Marshall home, 1770 –
209 East Orange Street
Marshall, a well-known diarist of the Revolutionary War, came to Lancaster from Philadelphia in 1777. This stately 2-1/2 story brick home is located on E. Orange Street.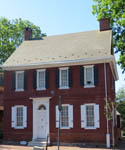 John Passmore home, 1780 –
247 East Orange Street
This brick Georgian building on E. Orange Street was the home of the first mayor of Lancaster (1818), John Passmore.
Dr. Thomas Bond home, 1780 –
297 East Orange Street
Dr. Bond, along with Benjamin Franklin, co-founded the Philadelphia Hospital. This brick Federal-style home is located on E. Orange Street.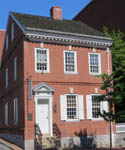 Andrew Ellicott home, 1787 –
123 North Prince Street
Andrew Ellicott lived in this brick Georgian home on N. Prince Street. Ellicott laid out Washington, DC, instructed Meriwether Lewis in surveying prior to Lewis and Clark Expedition, and was friends with Franklin and Jefferson.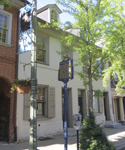 Charles Demuth home, 1770 –
118 East King Street
This 2-1/2 story brick building on E. King Street, was the home and studio of artist Charles Demuth. It is next to the Demuth Tobacco Shop founded in 1770.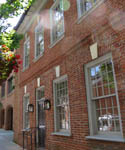 John Messencope Jr. home, 1802 –
120 East King Street
Messencope was a Chief Burgess of Lancaster. This late Georgian brick home on E. King Street features keystones over the windows and cornice with dentils.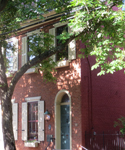 Jacob Eichholtz home, 1828 –
This brick Federal-style townhouse on S. Lime Street was the home of noted portrait artist Jacob Eichholtz.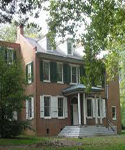 James Buchanan home, 1828 –
'Wheatland' was the home of President Buchanan. The 22-room Federal-style home was built in 1828. The front entrance features a small porch with Doric-style columns. Buchanan bought the home in 1848, and lived there until his death.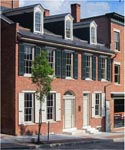 Thaddeus Stevens home, 1840
The home and law office of U.S. Congressman and abolitionist, Thaddeus Stevens, is on South Queen Street. This 2 1/2 story, brick building is in the federal style.

Visit –
Lancaster History.org
Historic Lancaster Walking Tour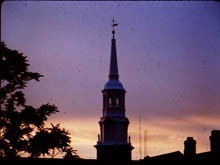 Downtown churches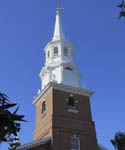 Evangelical Lutheran Church of the Holy Trinity, 1766-1794 –
31 South Duke St.
Founded in 1730, the red brick Georgian-style church on S. Duke Street was completed in 1794 with the addition of the 195-foot bell tower and steeple. It was the tallest building west of Philadelphia. Statues of the four evangelists stand at the base of the tower. Trinity is Lancaster's oldest surviving house of worship.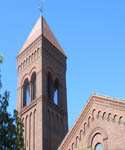 St. James Episcopal Church, 1820 and 1880 –
119 North Duke St.
Founded in 1744, the church is located on N. Duke Street. The present Lombard-Romanesque church was built in 1820 and the tower in 1880. Many famous Lancaster patriots found their final rest in the churchyard.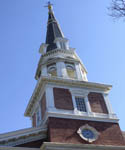 First Presbyterian Church, 1851 –
140 East Orange St.
The present red brick church, located on E. Orange Street, was founded in 1742 by Scots-Irish Presbyterians. They held their first service in the Center Square Courthouse. President James Buchanan and Congressman Thaddeus Stevens worshiped there.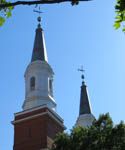 First Reformed Church, 1854 –
40 East Orange Street
Founded in 1730, this red brick Romanesque Revival church on E. Orange Street, stands out because of its twin steeples. The original 1736 church was known as "Log Church." Until a steeple was added in 1746, the congregation hung its bell from a hickory tree.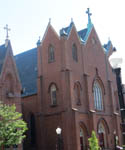 St. Mary's Catholic Church, 1854 –
119 South Prince Street
The red brick church, located on Vine Street, was gathered in 1741 as a log chapel. St. Mary's was established as a place where "persons of whatever nation or religion" were welcome.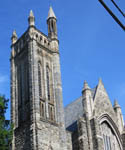 First United Methodist Church – 1889
29 East Walnut Street
The church, located on N. Duke Street, was gathered in 1807. The beautiful limestone church has been enlarged and renovated over time to meet the needs of the congregation.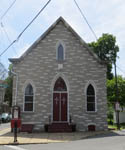 Bethel African Methodist Church, 1818 –
512 East Strawberry Street
The church, gathered in 1817, is located on Strawberry Street. With the help of other local churches, Bethel was established as a beacon of hope and refuge for free Africans of Lancaster while providing safe haven for runaway slaves by way of the Underground Railroad.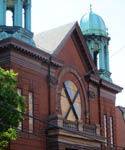 Temple Shaari Shomayim, 1886 –
75 East James Street
The congregation was founded in 1858. Lancaster had been home to Jewish families since 1740, and is the site of the fourth oldest Jewish burial grounds in America. The present synagogue on N. Duke Street was built in 1886.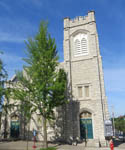 St. Paul's United Methodist Church, 1916—
10 West Farnum Street
Founded in 1849, the church is on South Queen Street. This, the third building built by the congregation, was designed by Lancaster architect C. Emlen Urban.

Visit –
Lancaster History.org
Historic Lancaster Walking Tour
Self-guided Freedom of Religion Walking Tour of Churches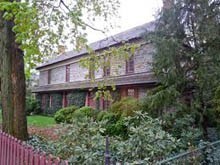 Nearby must-see buildings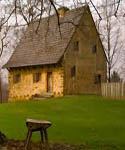 Hans Herr House, 1719 –
This is the oldest house in Lancaster County. The stone settler's dwelling shows strong Germanic influence, with steep-pitched roof, central chimney, chevroned door, arched stone basement, and side-lapped shingles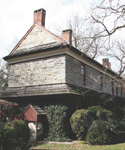 John Wright house, 1738 –
This long, one room deep, stone house was built by Susanna Wright, in an area known as Wright's Ferry, in the traditional English style. The pent roof and squirrel tail oven show Germanic influences.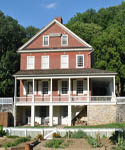 General Edward Hand's house, 1795 –
Edward Hand was George Washington's adjutant general. Rockford, his fine brick home is Georgian in style, with symmetrical placement of windows and doors, and projecting water table above the foundation, overlooks the Conestoga River southeast of Lancaster.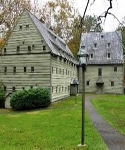 Ephrata Cloister, 1735-1760 –
The Ephrata Cloister was founded in 1732. It was one of the earliest religious communities in America, consisting of several wooden European-style buildings with medieval Germanic form, that served as dormitories and meeting houses.