Equality For All Americans
The battle for equality and the abolition of slavery has strong roots here. Lancaster's Representative, Thaddeus Stevens, was known as the 'Dictator of Congress' for his fiery and unyielding support of equal rights. He was the leading force in the passage of the Emancipation Proclamation as well as the 13th amendment abolishing slavery.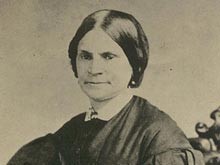 Lydia Smith
Thaddeus Stevens hired Lydia Smith, a smart and personable mulatto woman, as his housekeeper. For over 20 years she served as housekeeper, confidante, looked after his nephews, and by some accounts—was his mistress. Stevens deeded her property behind his house for $500 where he had built a brick home for her. In his will Stevens provided money to Smith to buy his house.
Visit:
lancasterhistory.org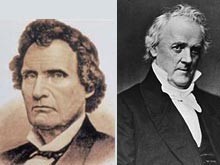 Stevens and Buchanan
Lancaster's James Buchanan, a Democrat, was the 15th President of the United States and life-long bitter rival of Thaddeus Stevens in and out of Washington. While he disapproved of slavery, he was against going to war. His efforts to maintain peace were seen as a sign of weakness by both the North and the South.
Thaddeus Stevens, also a lawyer and bachelor from Lancaster, was the most powerful congressman in Washington. His outspoken, sarcastic attacks on those who disagreed with his opposition of slavery, his support of the war, and his desire to punish the Confederacy, made him a political enemy of Presidents Buchanan and Lincoln. While he helped Lincoln pass the 13th amendment, Stevens was usually a thorn in Lincoln's side.

Visit:
lancasterhistory.org
James Buchanan's Wheatland
Stevens' tomb
View video:
Thaddeus Stevens Sites in Lancaster
Stevens & Smith Underground Railroad Site
Ed & Alan go to Lancaster to learn about James Buchanan and Thaddeus Stevens