A Brush With Greatness
Lancaster is, and has always been, a center for the arts. Nationally renowned artists like Jacob Eichholtz, Charles Demuth, and David Brumbach found creative inspiration living in Lancaster. Today, a strong art community is evident in the many downtown art galleries.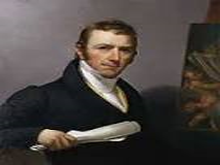 "Keep your day job"
Jacob Eichholtz (1776-1842), a young coppersmith and sign painter, taught himself to become a portrait artist. When the noted artist Thomas Sully visited Lancaster, Eichholtz offered him studio space. Sully gave him luke-warm encouragement, writing, "I have no doubt that Eichholtz would have made a first-rate painter had he begun early in life with all the usual advantages." Upon Sully's departure he gave Eichholtz several half-worn brushes that were greatly needed by the aspiring artist. Eichholtz traveled to Boston for instruction from Gilbert Stuart. During his lifetime, he achieved considerable financial success and peer recognition painting a rising middle class of craftsmen, merchants, doctors, lawyers and their families.
Visit -
lancasterhistory.org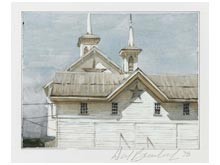 A star is born
David Brumbach (1948-1992) was a much beloved artist that lived and worked in Lancaster. His works represent a broad range of styles, from photorealism to abstract to mixed-media collages to comic drawings. He found creative inspiration in Lancaster city and in the farmlands throughout Lancaster County. His most recognized subject was the Star Barn, painted in his new realism style that used crisp, clean imagery. Brumbach graduated from the Rhode Island School of Design. His work is found in museums and private collections across the country. Like Demuth, he suffered from diabetes, resulting in the loss of a leg, failing eyesight, and his death at the age of 44.
Visit -
Demuth Museum
Lancaster Museum of Art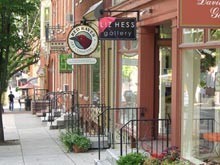 Art is fun on Gallery Row
While art galleries flourish throughout Lancaster, the first two blocks of North Prince Street are known as Gallery Row for its high concentration of art galleries. Gifted artists, local and national, display their works for sale in a variety of charming art galleries to appreciative art lovers. In the evening of the "First Friday" of every month, art galleries, restaurants, and downtown streets come alive in festive style to celebrate the Lancaster arts.
Visit -
Gallery Row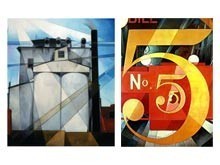 High 5 to creativity
Life-long Lancaster resident, Charles Demuth (1883-1935) was an internationally recognized leader in the American Modernist Movement, pioneer of the Precisionist style, and master watercolorist. He graduated from Franklin and Marshall Academy, attended the Pennsylvania Academy of Fine Arts, and studied in Paris as part of the avant-garde art scene. His painting "The Figure Five In Gold" was inspired by a friend's poem. It was one of nine poster portraits honoring his creative friends. The painting "My Egypt" was based on grain silos in Lancaster. He died at age 51 of complications from diabetes, leaving his paintings to his good friend Georgia O'Keeffe. She directed his works to museums across the country helping to establish his reputation as a major painter.
Visit -
Demuth Museum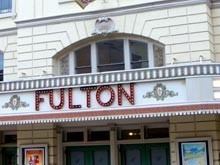 The show must go on - "Bravo"
The Fulton Theatre was built in 1852 on the site of the old jail. Originally called Fulton Hall, this building has been a center for the performing arts, social gatherings, and civic affairs for over 150 years. In 1873 the hall was converted into a grand theatre. At the opening show to raise money for Civil War widows and orphans, a prominent actor said it was "the most beautiful temple of art in the United States ". A statue of Robert Fulton stands above the marquee. The Fulton has hosted entertainers and speakers such as Mark Twain, the Barrymores, George M. Cohan, John Philips Sousa, Buffalo Bill, Wild Bill Hickock, Victor Herbert, Sarah Bernhardt, Maude Adams, and Woodrow Wilson. The Fulton has earned a special place in American theatre history, and continues to offer plays in a dramatic setting.
Visit -
Fulton Theatre